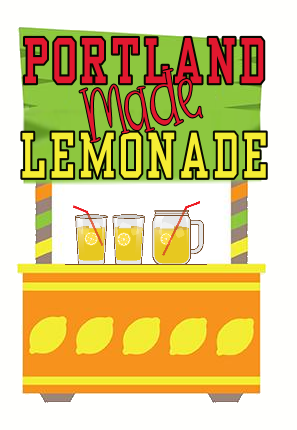 Portland Made Lemonade is a fun and refreshing community event that teaches kids the skills they need to be successful in the future.
Portland Made Lemonade provides the opportunity for children to start, own and operate their own business - a lemonade stand! Leading up to the day of sales youth will learn to set goals, develop a business plan, establish a budget, seek investors and provide customer service.  It all comes to life when participants set up their stand and open for business!  Each child keeps all revenue earned from their business and are encouraged to save a little, spend a little, and give a little back to the community.
Portland Made Lemonade is a way for us to take some time to focus on cultivating the leaders of tomorrow, a task that is too often neglected.  Growing future leaders is good for the community and is good for business.
Portland Made Lemonade is a community-wide event where we all unite for a common purpose-to train the next generation of entrepreneurs!  For questions, or information on how you can get involved contact Makenzie Krnavek, Visitor Relations of the Portland Texas Chamber of Commerce, at 361.777.4650 or by email to info@portlandtx.org!
Please submit Youth Entrepreneur of the Year Entries to info@portlandtx.org by Friday, May 13, 2021.